| | |
| --- | --- |
| Posted by James FitzGerald IV on November 7, 2012 at 8:20 PM | |
Sean Payton is one of , if not the most brilliant offensive mind in the NFL today. He has led his New Orleans Saints to a Super Bowl championship and has orchestrated one of the most prolific offenses in NFL history. He has been suspended for all of the 2012 NFL season due to his roll in the "Bountygate" scandal which has overshadowed the Saints team this year. After signing a mult-year contract extension in the offseason, the NFL has voided that contract based on the fact that in the contract there was language that makes it void if GM Mickey Loomis was suspended, voluntarily leaves, or fired by the New Orleans organization. Mickey Loomis was also suspended by the league for his roll in the "Bountygate" pay-for-performance scandal, which in turn has made Coach Payton a free agent. With this in mind I got to wondering what it would be like if Sean Payton decided not to renegotiate with the Saints and decided to take his services elsewhere ( you know me and my imagination!!)
But seriously couldn't you imagine if Sean Payton went to: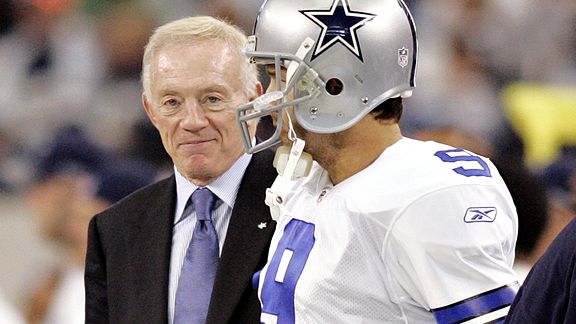 The Dallas Cowboys, I mean picture it. He already reportedly has a home in the Dallas area, he would be working for an owner in Jerry Jones that would want to win at any cost, plus he would be coaching " America's Team " in a newly built $1.2 billion dollar mega stadium ! On top of that he would be inheiriting a team that has a bunch of talent on both sides of the ball and a QB in Tony Romo who would benefit greatly from Coach Payton's tutelage. The only thing Coach Payton would really need to do is request of Jerry Jones that he kind of stays in the background, you know the old addage " owner own and coaches coach ". Also, Sean Payton would like to add, since Mr. Jones likes to throw on his General Manager hat, that in all personnel moves, as coach he would have the final say. This could be a winning situation for both the Cowboys Nation and Coach Payton.
Or what if he decided to go to Jerry Jones's division foe the Philadelphia Eagles? That fan base is flat out disgusted with their teams situation and someone like Coach Payton could re-energize the organization and the Philladelphia faithful. Jeffrey Lurie the team owner has already voiced his displeasure with how this 2012 campaign has gone for his team and has put Andy Reid on the hot seat. With Philly starving for a winner I am sure that the Eagles front office would put together a deal that would satisfy coach Payton and give coach the oppotunity to become a folk hero in the " City of Brotherly Love" for all eternity. The offensive skill players are already in place with DeSean Jackson, Jeremy Maclin, LeSean McCoy, and Michael Vick, if they decide to keep him for the beginning of the Sean Payton era. I dont know about you, but I think that posibility has promise.
You know what, call me crazy but what if maybe, just maybe he decided to shock everybody and go to the Tennessee Titans? I mean seriously picture it ! He would go to a franchise that already has a solid young talent in QB Jake Locker. He would probably get complete control of the squad because Titans owner Bud Adams has said as recently as last week's 30 point blowout at the hands of the Chicago Bears that his whole organization down to the coaching staff is being evaluated. If he decided to change course and bring in a Super Bowl championship winning Head Coach that coaches an exciting style of football to revamp his whole team and energize a Titans fan base that is starving for a winner, Bud Adams would be on the right track with Sean Payton.
In the end, though. Sean could just decide to stay right in New Orleans and continue to win in the Superdome and then all this daydreaming would be for nothing. But you know what, if you don't use your imagination, you would probably lose it. Imagine that !