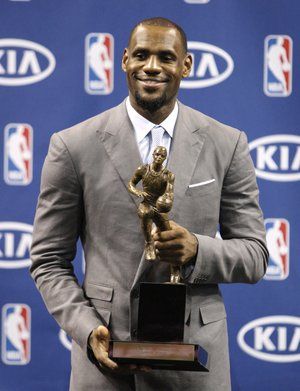 Which NBA players do I have at the top for MVP? Is LeBron #1? Can Kevin Love lead the Wolves to the playoffs and win MVP? What about Carmelo Anthony? Find out who I have for the early season MVPs.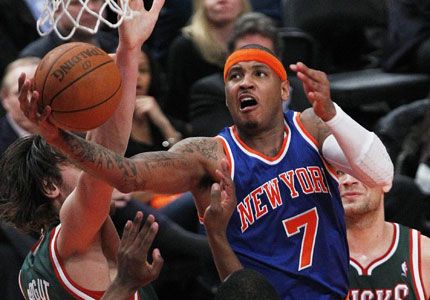 Carmelo Anthony, F New York Knicks
The Knicks are 1st in the East right now, at 14-5, and have been playing great basketball. They've been hot from 3, and Carmelo has been leading the team quite well. Carmelo is 3rd in the league in scoring, getting 26.4 points per game, and grabbing 6.7 rebounds per game. Making 2.4 three's per game is also a record for him, of course it's still early in the season, so it has yet to be seen if he can keep making 3s at that clip. Carmelo is trying to prove he can be an unselfish leader, and he's doing it. The Knicks are currently undefeated at home, leaving me to put Carmelo at the top of the list, along with his gameplay.

LeBron James, F Miami Heat
LeBron is only averaging 5.9 free throws per game this year and only hitting on 65% of them. To put that into perspective, he shot 8.4 free throws per game last year. That's about his only criticism. He's still putting up amazing numbers that we take for granted because we're used to it now. 25 points per game, 7 assists, and 9 rebounds is amazing. Throw in a steal and a block per game as well. LeBron is truly a versatile player, and his team is 13-5 right now, second in the East.
Kevin Durant, F Oklahoma City Thunder
Durant may not be the passer LeBron is, but he is arguably the better scorer, and can rebound almost as well. OKC is 16-4 and Durant is second in the league in scoring (27.0). OKC is currently second in West.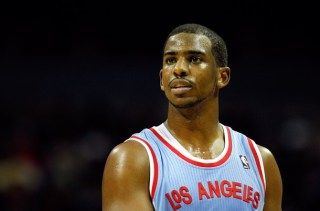 Chris Paul, G Los Angeles Clippers
CP3 is the leader of Lob-City, and they're currently 4th in the West. Chris Paul is leading the league in steals (2.7), and is second in assists per game (9.6). While Griffin has been great, CP3 has turned the Clippers into the best team in LA right now.
Tim Duncan, F/C San Antonio Spurs
It's amazing how Tim Duncan has been able to put up solid numbers year after year, when all the critics keep putting the Spurs down because of their old age. Timmy is putting up great numbers, regardless of age. He is averaging just shy of a double-double, with 18.1 points per game and 9.8 rebounds. He's also been a defensive force in the middle with 2.4 blocks per game. The Spurs are 1st in the West right now.
Zach Randolph, F Memphis Grizzlies
It's hard to choose just one of the Grizzlies for an MVP watch because they're having great success and the whole team is producing. The Grizzlies currently hold the 3rd spot in the West at 14-4. But the nod goes to Zach Randolph because of the monster numbers he puts up. 17.6 points and 12.9 rebounds is no joke. He had 38 points and 22 rebounds against Phoenix recently.
Deron Williams, G Brooklyn Nets
Deron has been good, but not great this year. Still, the Nets are 11-7 and seem to be well on their way to a playoff run, which would  not be possible without the all-star point guard.
David Lee, F/C Golden State Warriors
David Lee is balling right now. He is averaging well over a double-double right now, with 18.5 points per game and 11.3 rebounds. Golden State has been a surprise this year, standing at 13-7, 5th in the West. It's hard to give Lee all the credit though because Stephen Curry has helped a lot with their success so far.
Jrue Holiday, G Philidelphia 76ers
Holiday has led the 6ers to a respectable 11-9 record, carrying the team while Bynum sits on the bench because of his plastic knees. He is putting up a career high in points (17.7) and assists (9.0).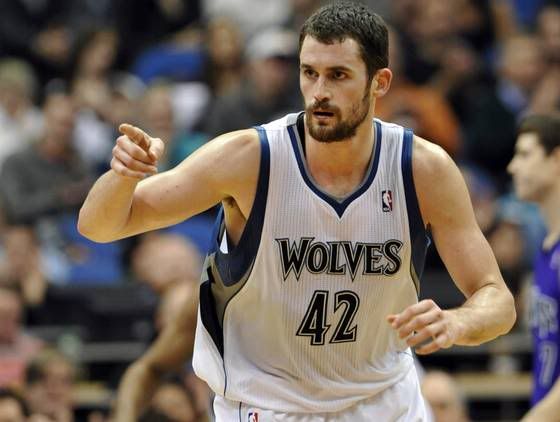 Kevin Love, F Minnesota Timberwolves
I love Kevin Love, but the Timberwolves are only a mediocre 9-9. True, they are without starting point guard Ricky Rubio, and Kevin Love missed most of the season thus far due to a broken hand. Still, Kevin Love's amazing numbers and gameplay should have the Wolves easily in the playoffs. Love's hand isn't even fully healed yet, and he's still putting up 21 points and 14 rebounds. If Love can get this team into the playoffs, he is a serious contender for MVP.