| | |
| --- | --- |
| Posted by Houston's Finest on January 25, 2013 at 9:30 AM | |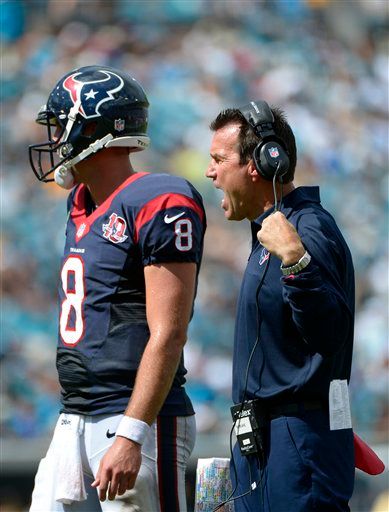 With a loss to the New England Patriots in Foxboro and a some what sub-par effort by Matt Schaub and Gary Kubiak a lot of fans are they the answer. I wondered this same sentiment during the Regular Season and the playoffs. The Texans seemed to be a team built to win Not 1, but multiple Super Bowls. The only problem is the 2 positions that count the most may be our weakest link. Gary Kubiak in my opinion is a GREAT OC he can call a game and script up plays with the best of them, but when it comes to late or in game adjustments the man comes up short. I can go back as far as the 2009/2010 season, Texans started off 2-0 and finished 8-8. The one thing that upsets me with Kubiak is his inability to stay aggressive. He'll get a 2 Touchdown lead in the 1st half and come out the 2nd half and be happy to kick field goals the rest of the way even if it means the opposing team almost coming back (Week 3 @ Denver). THIS HAS TO STOP, fans should expect more from him Tom Brady said it best in his historic season of 07-08. "When coach sends us out there, he's not sending us out there to kick field goals." Couldn't have said it better myself Tom, and this is coming from a person who strongly despises Tom Brady and the New England Patriots. Kubiak has had multiple chance to get it done, and if you ask me he should have been gone after the 7-9 season that we had previous to making the playoffs. Owner Bob Mcnair and GM Rick Smith seem content with Kubiak though and with multiple NFL seasons to come JJ Watt's emergence I don't see Kubiak going anywhere anytime soon.
Although a lot of people blame Schaub for the loss at New England (including me at first) I don't think he was the sole reason. Yes he made some bad reads, yes he made some bad throws, but it was also his first time in the playoffs playing against a team of New England's caliber. With the extension that he got earlier in the season a lot fo fans were expecting Brady type of success from Schaub. This is Schaub's first year in the playoffs however and although the guy is as mobile as a desktop computer he still wasn't the sole reason the Texans loss. On countless occasions the Texans D struggled to get off the field. Nobody on the Defensive Line besides Watt applied pressure to Brady he had all day to throw on seemingly every drop back, and the Secondary was leaky at best. What really made me mad however, was the lack of in game adjustments made by Texans DC Wade Phillps. Everytime it came to a crucial 3rd down Barrett Ruud or Brady James would be stuck on a Vereen or a Gonzalez, and everytime the Patriots would convert. When we finally did get a stop or make a crucial play the offense wasn't ready to attack and Kubiak once again felt content with just kicking field goals, and we all know against Brady THAT CAN'T HAPPEN. Schaub didn't play up to par and he deserves all the heat he's taking right now, but I say give him another year. Schaub has just as much Postseason success as Matt Ryan and in my opinion Ryan is a WAY better QB than Schaub. Give him time and next season hopefully this article wont have to be written again.