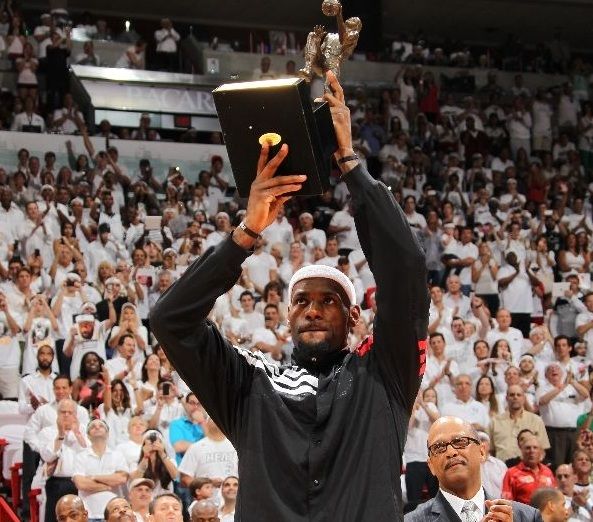 You can make a lot of arguments for a lot of players this season in the MVP race, as many are deserving. Tim Duncan has once again lead the Spurs to a top record, Zach Randolph has the Grizzlies competing and Stephen Curry has the gotten the Warriors into the mix of the Western Conference playoffs.
But in my opinion, it goes down to four players. Chris Paul, LeBron James, Kevin Durant, and Carmelo Anthony. These four players are elevating their respective teams into greatness, leading them to top positions in the standings and making their team's championship contenders. Now, don't get me wrong. I'm not saying that Tim Duncan and the Spurs have no chance, and that Timmy isn't deserving of an MVP, along with a few other candidates.  But I strongly believe the MVP will go down between these four individuals, and that anyone else being mentioned in the discussion is a formality.
Chris Paul, Clippers G
The Clippers have the third best record in NBA. Just think about that for a minute. The Clippers. Obviously they have a lot more talent now than they did a few years ago, but Chris Paul is still the centerpiece on this team and deserves more credit for what he's done. He's averaging 16.6 points, 9.7 assists and leading the league in steals at 2.6 per game. But the most important part of his game is his leadership. Chris Paul is a true floor general, and makes everyone around him a better player with his playmaking. The Clippers are 4-3 in games where CP3 doesn't play, as he has continuing knee soreness. They are able to hold their own without Chris Paul, but Chris Paul clearly makes them a much better team.
Kevin Durant, Thunder F
The Thunder, again, are near the top of the Western Conference, just one game behind the Spurs. Durant is shooting over 50 from the field, 40 from 3, and 90 from the foul line, which is an incredible accomplishment. If he can keep that up for the season, he will join an elite club of players who shot 50/40/90. This includes Larry Bird(twice), Mark Price, Reggie Miller, Steve Nash(four times), and Dirk Nowitzki. Durant is leading the league in scoring, and is showing progress as a play maker, and is improving his rebounding.
LeBron James, Heat F
It's hard not to give LeBron the MVP every year. He's one of the best scorers, one of the best passers, very efficient from the floor, plays good defense, and his team has a top record in the Eastern Conference every year. The Heat are currently #1 in the Eastern Conference, with the fourth best record overall. The only knock on them is they aren't playing very well away from Miami, only 10-10 in road games. But still, LeBron is filling up the stat sheet. Every night he approaches a triple-double. Averaging 26-8-7 is not easy, not to mention his field goal (54) and 3 point (39) percentages are all career-highs for him.
Carmelo Anthony, Knicks F
The Knicks started off very hot, but have cooled down recently, as they're 5-5 in their last 10 games. But they still have the second best record in the East, and Carmelo has been playing very well. He's among the leaders in point per game again (29.4), and shooting 42% from downtown. It would be nice to see Carmelo facilitate more, but you can't argue against his scoring.