| | |
| --- | --- |
| Posted by Steven Liberman on January 29, 2013 at 1:05 PM | |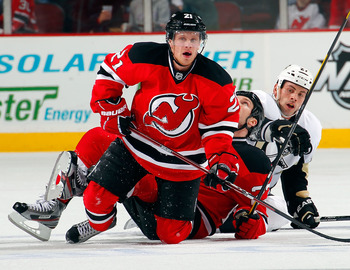 The Mattias Tedenby era with the New Jersey Devils appears to be numbered after a demotion to the teams minor league affiliate in Albany. This season was supposed to be a golden opportunity for Mattias Tedenby, who many thought was going to fill part of the void left by Zach Parise, who signed in Minnesota this past Summer. Tedenby does have NHL quality skills according to Head Coach Peter DeBoer, which would be reason to suggest he could be given another chance with the Devils. But, with the emergence of Stefan Matteau, the impending come back of Adam Henrique and the development of prospects like Reid Boucher, Graham Black, Reece Scarlett and Damon Severson, Tedenby's chances of having a long-term impact with the Devils appear very slim. Mattias's biggest problem is that he is not very good in the defensive zone and is a liability there and he does not have good hockey sense or decision making power. 
With Tedenby in Albany, there are strong indications that they could try and package him with a defenseman on their roster to get more scoring. There are teams like the Edmonton Oilers, LA Kings and the Washington Capitals, who need Defense. With Lou Lamoriello, he usually aims for the element of surprise. Some of the defensemen the Devils could move are Andy Greene, Anton Volchenkov, Henrik Tallinder, Mark Fayne, Eric Gelinas or Alexander Urbom. However, it appears very likely that the Devils will stick with this roster with all their youth movement. 
Many of you thought that when the Devils sent Tedenby to Albany that they were going to call up Bobby Butler, but that was not the case. Instead, the Devils called up Right Winger Matt Anderson, who will make his NHL debut at age 30 tonight at TD Garden in Boston against the Bruins. Through 39 games in Albany he has 7 goals, 13 assists and a plus 8 rating. He has played in the AHL All-Star Game before.